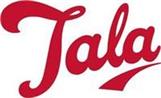 Tala Pirate Birthday Cake Candles – Set of 4
Make any birthday the most stellar occasion it can be, with these fabulously cool pirate shaped candles. These mates make the perfect cake topper.

Founded in Birmingham, England in 1899 Tala have been making kitchenware, bakeware and icing and frosting equipment for over 100 years. Tala can be found in over 50 countries worldwide. Tala prides themselves on their quality and long lasting products. They still make a great many of their products in England with factories making Cooks measures in Liverpool, on the same machinery since the 1930's. They have very distinctive looking products that are not only great to use but will also look fabulous on display in your kitchen. Tala also makes a wide range of top quality food preparation items, utensils and canning & preserving equipment.
Celebrate birthdays and parties in style with these fun pirate shaped candles from Tala. The brightly colored candles are a fun and easy way to brighten up any cake. Perfect candles for birthdays, parties or any celebrations.
Party candles ideal for all occasions
Set of 4 pirate shaped candles
These bright and colorful candles are a fun finishing touch to any birthday cake
Make a wish with these Tala Pirate Candles
Ideal for children's to adult birthdays!